Looking for some fun rhyming games and activities for your students? This post has 5 ideas AND freebies for you!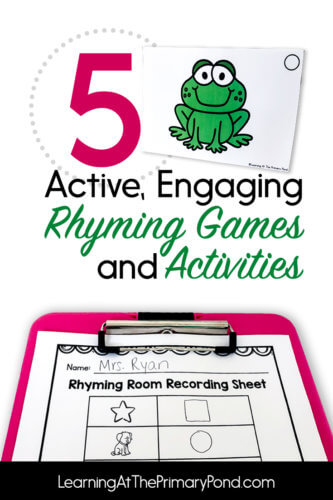 Idea #1: Act out rhyming action words
Read one of the below sentences aloud to students (with emphasis on the two rhyming words), have them repeat the entire sentence with you, and then have them act out the action word at the end (i.e. jump, leap, run, etc.),
Bump rhymes with JUMP!
Keep rhymes with LEAP!
Fun rhymes with RUN!
Hip rhymes with SKIP!
Trim rhymes with SWIM!
Fist rhymes with TWIST!
Idea #2: Work with rhyming books
Rhyming books are fun to read and reread! Here are a couple of ideas for activities you can do with rhyming books:
Have students clap or jump on the words that rhyme (once they're already familiar with the text)
Have students help you write the rhyming words on index cards—place the cards in a pocket chart so you can discuss and sort them by spelling pattern
Play "fill in the blank" (once students are familiar with a text, pause before you read a rhyming word and have students fill it in for you)
If you're looking for rhyming book suggestions, check out this post! But don't forget to come back here to finish reading and grab your freebies!!
Idea #3: Play "Find Your Rhyming Partner"
This game can be played in a whole group or small group setting. Simply give each child a picture and have them find their rhyming partner (i.e., one student has a picture of a bear, and another student has a picture of a chair).
After students have found their partners, mix up the pictures or grab new ones, give each child a different picture, and play again!
Idea #4: Play "Rhyming Room"
This game is super active and fun! Before students enter the classroom, post large pictures (included below in your freebie) in different places around the classroom. Each large picture should have a shape symbol on it.
Then, give each student a recording sheet. Students move around the room, trying to find the rhyming picture that matches each picture on their recording sheet. When students find a match, they can:
Draw a picture of the corresponding shape symbol, or
Draw a picture to represent the image itself, or
Use invented spelling to try and write the word
Download the freebie by clicking on the photo!
Advanced students can also use invented spelling to label the rhyming pictures.
Idea #5: Play Rhyming Memory
This one is simple but always a favorite!
First, show students all the cards and discuss the rhyming pairs. Then, mix up the cards, turn them face-down, and have students play rhyming memory (they take turns trying to find pairs of pictures that rhyme).
Make sure that students always say the names of the pictures aloud when they turn them over.
You can download Rhyming Memory HERE!
Happy teaching!