We all know that changing out materials for literacy centers is essential.
Introducing new materials helps keep the kids engaged. AND it gives them practice with different skills as we move through the school year.
However, we have to think carefully about:
How often to switch out materials

How and when to teach students to use the new materials

How many centers to replace each week
For a while, I switched out my centers every week. Every Friday afternoon or Monday morning, I'd replace (some of) my centers materials. Before the kids went to centers on Monday, I explained all of the activities so they'd know what to do.
This routine worked fine for me in terms of my own organization and planning.
However, it didn't work great for my kids. I always felt like I was losing them when I explained the centers activities on Monday. Even if they were familiar with some of or all of the activities, it was just a LOT to throw at them all at once.
Do you ever feel the same way? If so, keep reading! In this post, I'll share a simple alternative to switching out your literacy centers at the beginning of each week!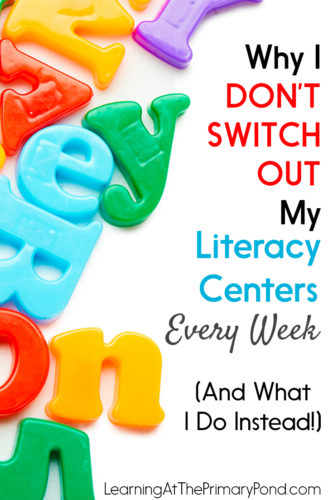 Photo Credits:  Katerina Graghine, Shutterstock
I thought it'd be best if I explained my system in a video. Click "play" below to watch!
The Recap
Instead of introducing multiple new centers at the beginning of each week, I designate one day of the week for each center.
For example…
Monday = partner reading center

Tuesday = word work center

Wednesday = independent reading center

Thursday = writing center

Friday = listening center
If you have more than 5 centers, you can assign more than one center to each day.
Then, on that center's designated day, you can do one of two things:
Introduce a new activity (or a variation of a pre-existing activity)

Re-teach a procedure or teach a troubleshooting lesson to help students overcome a challenge you've noticed them having in that center
This strategy has helped my students and me by:
Preventing "information overload," since only one activity is introduced or reviewed at a time

Giving students something new to look forward to EVERY day

Ensuring that we have time for re-teaching procedures and expectations when the need arises (and we all know the need WILL arise! ;-))
Of course, you can still prep all of your centers for the next week on Thursday, Friday, or the weekend before. You just wait to introduce certain materials rather than putting everything out on Monday.
Pretty simple, right?
If you'd like to use the planning calendar I showed in the video, click on the image below to receive it. (You'll get other literacy center planning freebies in the download, too!!)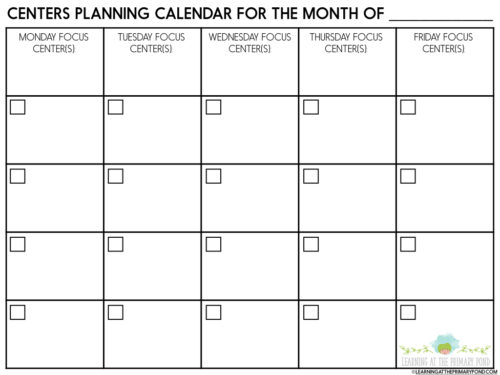 AND one last thing — In last week's post, I described another important change I made to improve student engagement and learning in centers. If you haven't read it yet, click HERE.
Happy teaching!