Have you heard of phoneme manipulation? Maybe you aren't familiar with that term – but you're already doing it with your students!
Phoneme manipulation is simply changing individual phonemes (sounds) in a word. An example would be if a student was asked to changed the /s/ in "sat" to /b/ –> and voila, we get "bat!"

Phoneme manipulation falls under the umbrella of phonological awareness, the ability to hear and manipulate sounds in words. (A few other examples that fall under the phonological awareness umbrella: rhyming, sentence segmenting, onset & rime blending.) Here's a graphic that shows this in more detail: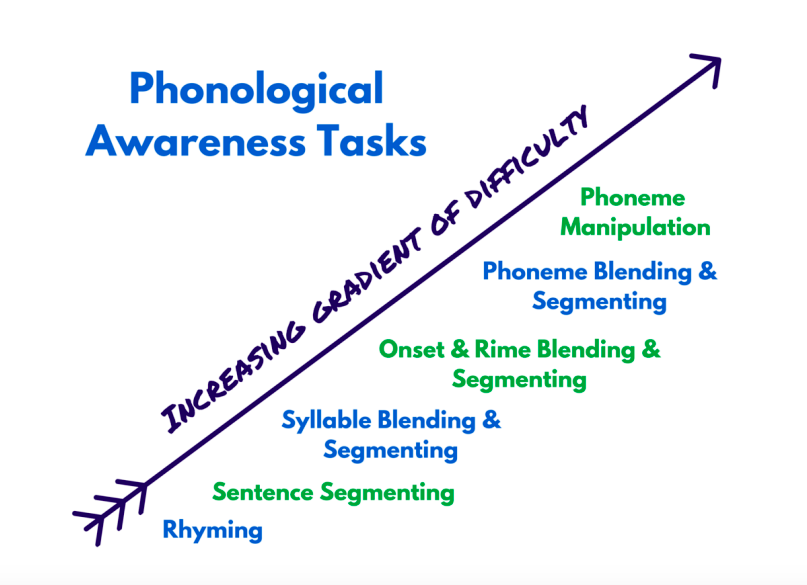 At the top, you'll see phoneme manipulation. What this means is that it's considered the most difficult of these tasks.
What this does not mean, however, is that a student must have all of the "easier" skills mastered before being introduced to phoneme manipulation.
Sidenote: these terms can all be a bit overwhelming, so if you're in need of a quick refresher and some definitions, grab my FREE Phonics Guide.
In this article, I'll explain the different types of phoneme manipulation. I'll also provide some simple, quick activities for introducing phoneme manipulation to your students in a fun way!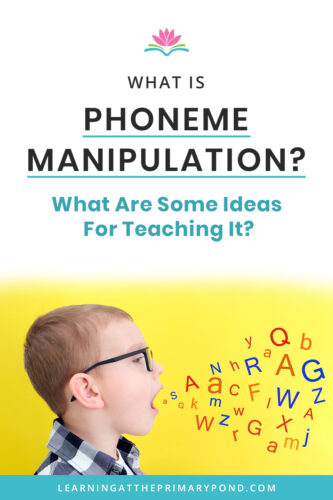 What are the Types of Phoneme Manipulation?
There are three different types of phoneme manipulation. Within each type, you can vary the specific phoneme that you're manipulating (example: 1st phoneme, last phoneme, etc.). Students may be ready for these activities at different times.
Phoneme Addition
Initial phoneme: "Starting with the word 'top,' add /s/ to the beginning." (top → stop)
Final phoneme: "Starting with the word 'for,' add /t/ to the end." (for → fort)
Adding a phoneme to make a consonant blend: "Starting with the word 'cap,' add /l/ after /k/." (cap → clap)
Phoneme Deletion
Initial phoneme: "In the word 'speck' take away /s/." (speck → peck)
Final phoneme: "In the word 'cart' take away /t/." (cart → car)
Deleting second phoneme from a consonant blend: "In the word 'slide' take away /l/." (slide → side)
Phoneme Substitution
Initial phoneme: "In the word 'sun,' change the /s/ to an /r/." (sun → run)
Final phoneme: "In the word 'lap,' change the /p/ to a /b/." (lap → lab)
Medial phoneme: "In the word 'get,' change the /e/ to an /u/." (get → gut)
With each of these skill sets, you can vary the level of difficulty. Students can begin with 2 or 3-sound words (i.e. VC or CVC words) and gradually move onto words with digraphs, blends, r-controlled vowels, etc. You may have many students ready to work on phoneme manipulation, but may need to differentiate what types of words you use.
What Are Some Activities for Teaching Phoneme Manipulation?
When I teach phoneme manipulation, I start with a basic model and then have students repeat the process. Here's an example of each type of phoneme manipulation with this process:
Substituting phonemes: "I'm going to say a word. Your job is to repeat it. Then we'll switch out the first sound to make a whole new word. So, for example, we might use the word 'rake,' change the /r/ to /l/, and we get 'lake.' Ready? The word is 'me.' Repeat. (me) Me, change /m/ to /s/ and we get?" (see)
Adding phonemes: "Let's play a game. We're going to add a sound after the first sound in a word. For example, let's say I have the word 'gab.' Say 'gab.' (gab) Gab, add /r/ after /g/ and I get 'grab.' Do you hear how we added /r/ after the first sound to make 'grab'? Okay, now you try. The word is 'sake.' Repeat. (sake) Sake, add an /n/ after /s/ and we get? (snake)"
Deleting phonemes: "Now we're going to take away the last sound in a word. For example, if we have the word 'past' and we take away the /t/ at the end we get 'pass.' Now it's your turn. The word is 'brand.' Repeat. (brand) Brand, take away the /d/ and we get? (bran)"
Remember that this is all initially done with sounds (you might refer to them as "sound games" or "playing with sounds" when describing the activities to your students).
Even though a student might not be able to yet read a CVCe word, he/she can practice changing the short i in "rid" to a long i and make "ride."
This can all be challenging to students, and that's okay! Keep it fun, and just have them repeat after you until it clicks. And of course, keep in mind that taking phonological awareness abilities and applying them to reading and writing is the ultimate goal.
What Can You Do If Students Are Struggling?
Learning these skills takes time! Patience and repetition will be key. Here are a few tips to try in the meantime:
See if using pictures/hands-on materials (like Elkonin boxes or counters for phonemes) is helpful
Try having students close their eyes to focus only on the sounds
Use the "I do, we do, you do" model for the same phonological awareness task (when ready, begin to remove supports)
If working with a small group of students who are struggling, do fewer phonological awareness activities in one sitting
Conclusion
Strong phonological awareness typically leads to strong decoding skills. Phoneme manipulation is just one of the skills that can help students develop that phonological awareness.
If you need a bit more guidance on fitting this into your current literacy block and connecting it to your phonics instruction, take a look at this blog: How Your Phonological Awareness Instruction Should Connect to Your Phonics Instruction
I'd love to hear what other phoneme manipulation activities you use in your classroom! Feel free to share in the comments below!

Happy teaching!