Teaching children about autism is hard.
When we teach kids about people who use wheelchairs, or people who are blind, there's physical "stuff" for them to see. They can see a wheelchair, a seeing eye dog, or a cane.
But people with autism usually don't have this kind of "stuff." Nor do people with autism fit into a neat box. There's a big spectrum – children may notice that some of their peers with autism can be chatty, while others are nonverbal. Loud noises bother some kids with autism but not others.
So how do we teach children about autism? Reading My Brother Charlie is a good place to start! In this post, I'll explain why My Brother Charlie is such an outstanding book and link to a free lesson plan to go along with it.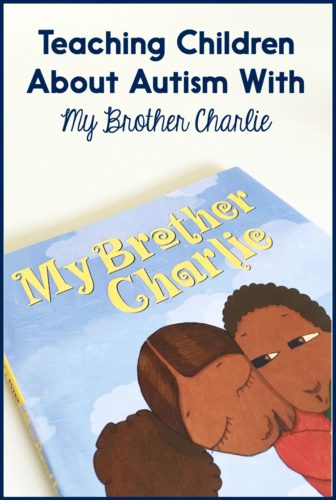 The authors of My Brother Charlie are Holly Robinson Peete, an actress, and Ryan Elizabeth Peete, Holly's daughter (age 12 at the time she co-authored the book). Holly's son, RJ, who is also Ryan's twin brother, was diagnosed with autism at age 3.
The text is narrated by Callie, a character based upon Ryan. The story opens with Callie describing the things that she and her twin brother have in common. I love this part! When you read this story with your children or students, you can talk about how important it is to look for things we have in common with other people – even when they may seem different from us.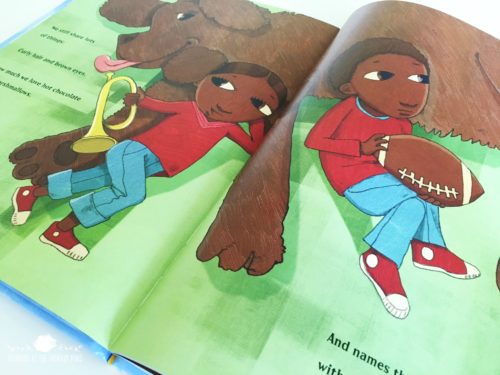 Callie then goes on to explain that even though they are twins, she and Charlie are also different from each other.
She describes how Charlie wouldn't play with her when they were little, and that he couldn't say "I love you" to his family.
Callie also explains things that are difficult for Charlie – making friends, showing his feelings, staying safe. And she shares her own feelings about this (which is another great teaching opportunity – it can be difficult to live with or be friends with someone who has autism, and it's important to acknowledge those feelings, too).
Despite these challenges, Callie says, Charlie is very talented. She describes all of his strengths and explains that even when he doesn't say "I love you" out loud, Charlie shows it in many different ways.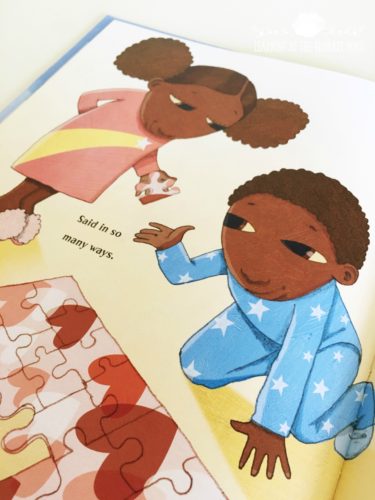 This is such a beautiful book! I was fortunate enough to receive it from GiftLit, a subscription book box service.
My Brother Charlie is part of a special subscription box called the "Brothers and Sisters Collection." The Brothers and Sisters Collection is one of four "One for One Book Collections." GiftLit is partnering with Books for Kids, so when you purchase a One for One Book Collections, a book will be donated to a low-income, at-risk preschooler!
As a former Pre-K and Kindergarten teacher, I know JUST how much kids' experiences with books contributes to their reading success. I would love for you to support this cause by getting a One for One Book Collection for yourself, your classroom, or a friend (click HERE to find a collection you love!). When you check out, please use code PrimaryPond so that they know you were referred from my blog. 🙂
And last but not least – I have a free lesson plan for you to go with My Brother Charlie! I think this book would make an excellent readaloud for the beginning of the school year. It's a great step towards establishing an accepting, caring community in your classroom.
Click on the image below to download the lesson!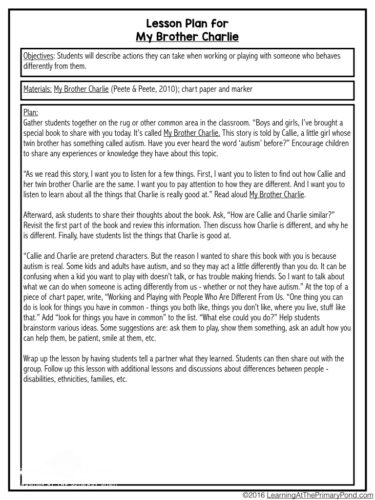 Happy teaching!