During my first few years of teaching, I felt most insufficient and ineffective as a teacher during my guided reading block.
For those 30-45 minutes each day, I felt anxious, rushed, and overwhelmed. It seemed like the kids were taking forever to read the new text. Sometimes I had to get up to help the other kids. There were so many things that I wanted to teach, and I only had 15 minutes for each group. Sometimes I didn't get to see the 2-3 groups that I had planned to work with. I really felt like a failure some days.
Now, I know that I'm not alone in feeling this way. I have talked to SO many other teachers who have the same struggles.
Honestly, I wish I could go back in time and tell myself to RELAX! I still struggle with timing and "fitting it all in." But I have also learned some strategies and changed my way of thinking about guided reading. I no longer want to pull my hair out during guided reading time. 🙂
In today's post, I'll share tricks I've learned that have helped me make the most of my guided reading time AND get rid of that super-rushed feeling. I'll explain how I changed my mindset when it comes to guided reading, and how I solved several problems related to timing and scheduling.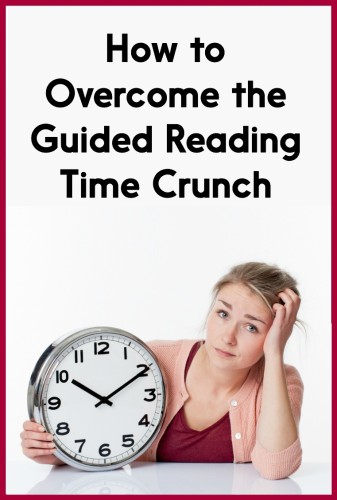 Image credit: Studio Grand Quest, Shutterstock
Disclosure: This post contains affiliate links.
Changing Your Mindset
Can I let you in on a little secret? We, as teachers, often create many of our problems in our own heads.
Here's an example: In a previous post, I wrote about post-reading activities for guided reading. In that post, I shared how frustrated I felt that I often couldn't find time for those activities at the end of my lessons. I felt like an ineffective teacher.
I was telling myself things like, "My kids aren't going to learn phonics well because I can never fit it in at the end of guided reading," and "I NEVER have enough time to get to what I want to teach in each lesson" and "I must be doing something wrong because I never have time for these activities."
If you think that sounds a little crazy or that I was taking guided reading way too seriously, try paying close attention to your own self-talk during the school day. Are you saying things like that in your own head? Chances are good that you're doing at least a little bit of negative self-talk, too.
Here's what I SHOULD have been telling myself when those negative thoughts popped into my head:
"I teach phonics during another time of the day, and I work with students individually and in small groups during that time. I'm not neglecting this part of the curriculum."
"Things happen, and I won't always get to every part of a lesson. It's okay. I can always finish the lesson tomorrow."
"I have my students do a ton of reading during guided reading time – so they're getting a lot of value out of my lessons."
If you feel overwhelmed and stressed about guided reading, I really encourage you to pay attention to your self-talk. I bet that most of what you're telling yourself just isn't true.
Try "derailing" those thoughts with rational thinking. Remind yourself that you teach skills in many different ways, throughout the day. Tell yourself that it's better to do an activity well than to just rush through it.
Try repeating things like this in your head when you're feeling the time crunch:
"I will teach this skill another day, or in another way."
"I'm going to do this well, rather than quickly."
"Oh well. We'll do this activity another time."
Taking a deep breath helps, too. 🙂
I'm not saying that we shouldn't do our best to deliver powerful, concise, and complete instruction during guided reading. But I do think that monitoring and re-directing our own self talk can make a BIG difference in how we feel about guided reading. Please try it and let me know how it goes!

Overcoming Challenges with Timing and Scheduling
In addition to monitoring our own self-talk around guided reading, there are steps we can take to overcome the guided reading time crunch.
Below are 4 common challenges and solutions I've found to each problem.
Problem 1: My kids take forever to read the text!
I've dealt with this problem so many times! The first thing I've learned to ask myself is, "Is this text too hard?" If kids are struggling through a text and having to do a lot of problem-solving in multiple places, then there's a good chance that the book is too hard for the group of students.
Take a running record while an "average" kid (within each group) reads the new text for the day. Make sure that she is reading the text with 90-94% accuracy. If her accuracy is any lower, the text is not considered to be at her instructional level. This indicates that you need to move down a level or two in order to best serve your students during guided reading AND ensure that reading the text doesn't take forever and a day!
If it seems like the book level is okay, think about your text introduction. Are you giving students enough support when you introduce the book? Read more about book introductions HERE.
Another thing to consider is the text length. I taught Kindergarten for several years before moving up to first and second grade. When I moved up, I brought with me the idea that kids have to get through an entire book during a guided reading lesson.
However, you don't have to finish the entire text in one sitting! Although I don't spend more than two lessons on a text (with K-2 students), it's okay if you don't get through the entire text in one sitting. This is especially true if you're reading a book at Level J or higher.
Problem 2: I take too long when I teach my guided reading lessons!
Me too, friend…me too! I have really had to work on being concise and paying attention to timing when I teach guided reading. Here are some things that have helped me with this:
1. Using a timer. I have a tendency to look up at the clock and realize that not only should I have already finished with a guided reading group, but that I've used up 5 minutes of another group's time. Yikes! I've started using a timer to keep myself on track. I figure out exactly how many minutes I want to spend on reviewing sight words, doing any phonics activities, introducing the book, etc. I don't usually use the timer for the reading and comprehension conversation, because I don't want the kids to feel rushed. Using a timer has helped me realize that I'm not going to get through the stack of sight words every single time…but that's totally okay.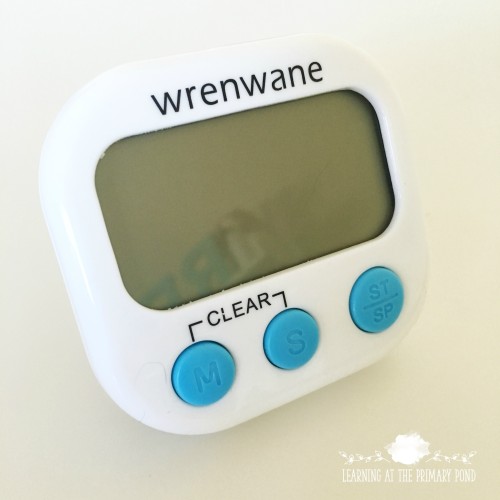 2. Storing materials efficiently. I set up my guided reading materials so that they are "grab and go." I don't want to waste any time finding the correct flash card, book, or other materials. Even if I have to make similar sets of flash cards for different groups, or have 12 different baggies of magnetic letters prepared, I'll do it. Having everything ready to go takes a little bit of work but is more than worth it. You'll feel less rushed and the kids will benefit because you'll be able to spend more time and energy on your instruction, not getting out materials. Take a look at the photo below to see how I store my white boards, markers, and erasers in a dish drying rack (I use baby socks as erasers – they are in the black container with the markers).
3. Taking time to prepare my book introductions beforehand. It's important to read the books when you plan your guided reading lessons. After you read the text, jot down some bullet points for your book introduction. If you can get the book introduction to be short, sweet, and to the point, this will save you time and set the tone for a focused lesson.
Problem 3: I get interrupted by the other kids, and that slows down my lessons.
There's nothing that will slow you down more than getting UP and DOWN and UP and DOWN during your lessons! Teach and re-teach your expectations so that you only have to interrupt guided reading for true emergencies.
Some teachers use a special light or sign to remind students that they cannot interrupt you. I've also found that letting students complete independent work at their own pace (without me telling them to switch stations) saves time and lets me focus more on teaching my groups.
If you have time with an instructional assistant or aide, it's a good idea to have them come during guided reading. They can help support and monitor students so you can focus on teaching your groups. Parents are also a GREAT resource for this! Not all parents will be able to come during the school day, but if you can get just a few volunteers and "train" them, they will be a wonderful help in monitoring the other students.
For more ideas to help you keep the "other students" on task during guided reading, click HERE.
Problem 4: I can't figure out how to see all of my groups every day!
Well, good news…you don't have to see all of your groups every day! And actually, unless your administration tells you otherwise (or you have multiple support teachers who push in and see groups), your students shouldn't be seen every single day.
If you try to see all of your groups every day, you'll likely feel rushed and have only a short amount of time to devote to each group. Quality over quantity!
Also, students will have to spend a TON of time working independently. And no matter how well you train your students to work independently, primary students' attention spans are short. It won't be useful to have them working independently for more than 30 or 45 minutes, tops.
So how many groups should you see per day? Depending upon your class size, I think 2-3 is fine. When I taught Kindergarten, 3 was the right number for me. When I was teaching 2nd grade, I sometimes fit in 2 and sometimes 3.
My free guided reading toolkit has some sample schedules that you might use. Below is a visual representation of my favorite schedule to use with Kindergarten or first grade (I sometimes see 2nd graders just twice per day). In this example, there are 5 different groups. From lowest to highest, they are: Red, Orange, Yellow, Green, Blue.
Click on the image below to sign up for your FREE guided reading toolkit!

Problem 5: I can't fit everything into one lesson!
More good news – you don't have to fit everything into your lessons! As I mentioned earlier, you're teaching different skills throughout your literacy block. It's great to reinforce or teach skills in a small group setting (particularly for students who are less successful during whole group instruction), but don't feel that you have to address everything during guided reading. Because you don't!
If you find that you need to teach more than what fits into a single guided reading lesson, consider having A days and B days for each group. On A days, you do certain activities, while on B days, you do other activities. You'll always want to have kids reading instructional level text, but you can alternate days with things like phonics practice, writing, sight word practice, etc.
There's one last thing I want to mention. You will probably feel better about your guided reading instruction and "fitting everything in" if you keep track of what you've taught. This will help you see, over time, what you've covered and still need to work on. To read more about keeping track of what you've taught during guided reading, please read this post.
I hope that this post will help you feel less stressed about your guided reading time. I don't exactly feel like I'm at the spa during guided reading…I still feel a sense of urgency to provide high-quality, focused instruction (this is probably a good thing). However, I don't feel ineffective and rushed when I use these strategies.
This has been the last post in my month-long guided reading series. I hope the series has been helpful to you! For more resources to help you teach guided reading, please check out the guided reading resources in my TpT store.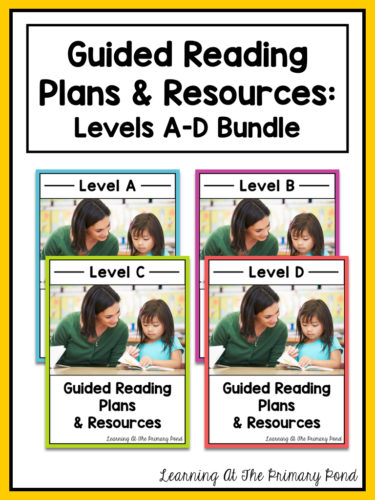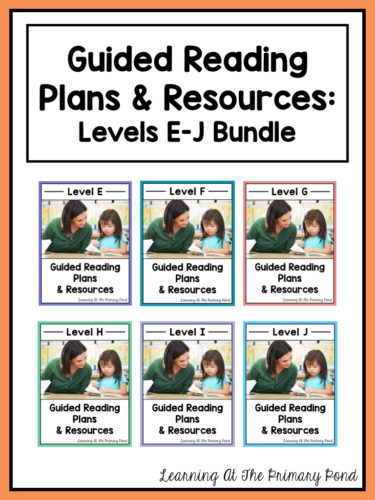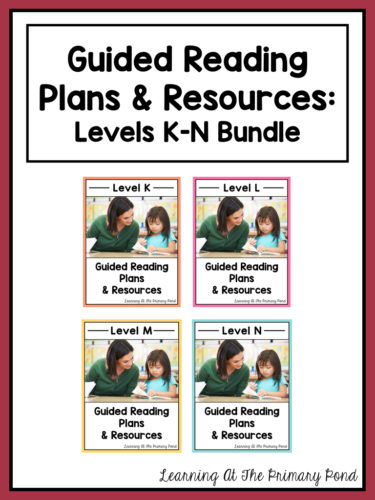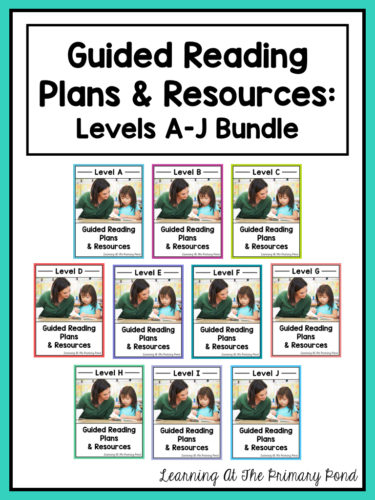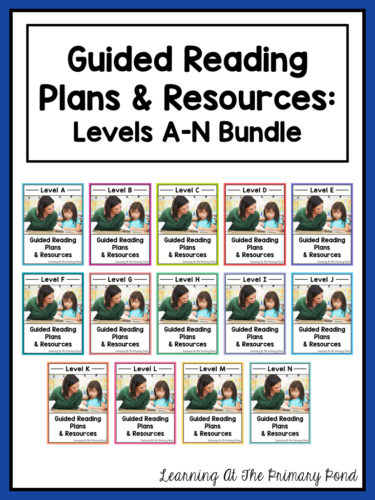 Individual leveled packs and other bundle options are available HERE.
As always, if you have any questions or comments, feel free to leave a comment or contact me.
Happy teaching! 🙂