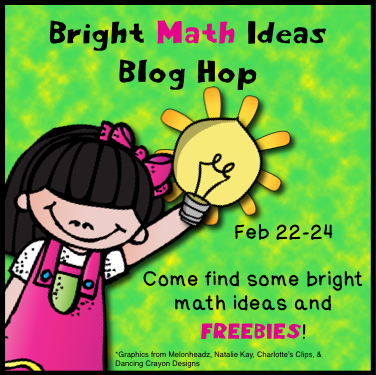 Welcome, blog hoppers!!  I'm super excited to be participating in the Bright Ideas blog hop for math.  Thanks for joining us, and I hope you find some great new ideas to try out!

My blog post today is going to focus on making independent math time count.  I teach a second grade math class, but the ideas are definitely applicable for any grade.

I used to teach Kindergarten, and I would set up math centers for my students every day.  Setting up centers and getting my little ones to actually use the centers correctly could be kind of a challenge.  When I started teaching second grade math, I realized that math centers just weren't feasible for our schedule and curriculum.  We're using a new math curriculum, so I never know exactly how long a lesson will take.  Students' independent time varies from day to day, and they also have more seatwork (math worksheets / problems to solve) than my Kindergarteners did.  So I scrapped math centers.  Instead, students complete their work independently or in partners, and then they go to the math "bin" and take out a game to play.  The game is like something you would use in centers, but I really only ever have 1-2 games in the bin to choose from at once. 

The reason I only have a few games is because I want students to really understand how to play the games I have in there, and I don't want to overload them with too many sets of rules to remember.  To teach them a game for the math bin, we play it as a class (they love a girls vs. boys challenge!) and then I play it with them in small groups as time allows.  I try to play it with them a few times before asking them to play it independently.

Since students don't have a ton of time for the games, I have to really make that time count!  I try to incorporate multiple skills and critical thinking into every game I put in the math bin.  Click on the picture below to download an example of a math partner game I created.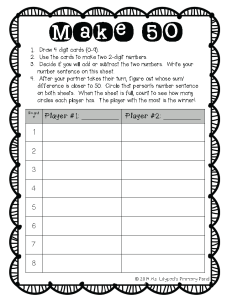 To play the game, a child draws 4 number cards (0-9; these can be as simple as numbers written on index cards, or from a deck of playing cards).  The child uses those 4 digits to make 2 different numbers.  Then, the student has to decide if she will add or subtract those numbers.  She tries to get as close to 50 as possible.  Then, both students write down the number sentence on their recording sheets.  The child's partner takes his/her turn, and the pair circles the number sentence that got closer to 50.  Here's an example:

1.  Sally draws the number cards 1, 6, 4, 2.
2.  She makes the numbers 64 and 12.
3.  Sally and Ethan write, "64-12 = 52" on their recording sheets (Sally is the one who comes up with the number sentence, but Ethan can always help her).
4.  Ethan draws the number cards 0, 0, 7, 3.
5.  He makes the numbers 70 and 30.
6.  Ethan and Sally write "70 – 30 = 40."
7.  Both children circle Sally's number sentence on their sheets.  They continue playing until the sheet is filled up, and then count up the number of rounds they each won in order to determine who the winner is.

As you might imagine, it takes some practice for the kids to really understand how to play this game well!  That's why I recommend practicing it beforehand, in a whole group and in small groups.  When they do understand it, it's a great math exercise and they enjoy playing it over and over.  

If you teach first grade or are teaching a group of second graders at the beginning of the year, you could play a similar game where students have to roll 3 dice or pull 3 number cards and get as close to the number 10 as they can, by adding and/or subtracting.

Hope you enjoy the freebie and idea!  Thanks for stopping by!  Click the button below to hop on over to Happy Teacher Heaven and grab your next bright idea and freebie!