When it comes to literacy centers, have you ever wondered…
How can I motivate students to consistently create high-quality work?
How can I hold students accountable for tasks that don't involve a recording sheet or paper-and-pencil work?
How can I cut down on the amount of prep work that I have to do?
How can I easily differentiate centers tasks?
How can I incorporate technology that's easy for students to use?
If you've ever thought about or struggled with any of these issues…I have GREAT news for you!
There is an app that can help you solve all of these problems!
It's called the Seesaw app, and I have my friend Janet to thank for getting me hooked on it. 🙂
The description of the Seesaw app explains that it's "a student-driven digital portfolio that empowers students of any age to independently document what they are learning at school and share it with their teachers, parents, classmates, and even the world."
Sounds awesome, right?
It is!
There are SO many different ways that you can use the Seesaw app. In today's post, however, I'm going to focus on how we can use it during literacy centers.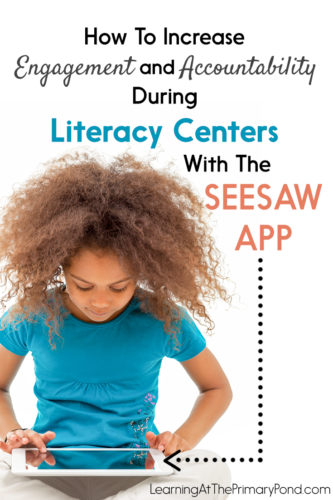 Photo Credit:  Samuel Borges Photography, Shutterstock
During literacy centers, you can use Seesaw to:
Have students take photos of their work (accountability!)
Have students videorecord their reading, retelling, etc. (accountability + they can share it with the class, which is highly motivating!)
Replace certain paper-based tasks with digital forms that students can write on and add audio recordings to
Assign different students different tasks
Quickly and easily collect and review student work
And much more!
Want to learn more and see it in action? Watch the video below!
So, have I convinced you yet? This app is the best!
Click HERE to find out how you can download it.
Happy teaching!