Teaching is all about making decisions. Decision…after decision…after decision. Research indicates that teachers make a few thousand instructional decisions in ONE school day. Whoa!
Inevitably, we're all going to make some decisions that we later regret or second-guess. I make mistakes ALL the time. I just choose to view them as learning opportunities for myself.
Guided reading has provided LOTS of learning opportunities for me (and by that, I mean that I've made quite a few mistakes ;-)).
In today's post, I'll share with you 5 things I've done during guided reading that didn't work out very well! I'm hoping that explaining my own mistakes will help you reflect on your practice. And I would love it if you'd share your own "aha" moments in the comments!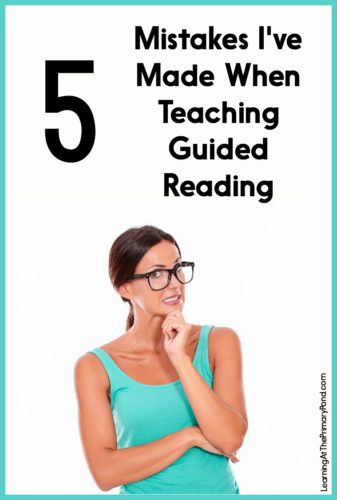 Photo Credits:  Pablo Calvog, Shutterstock
Mistake #1: Choosing books that are too challenging for my students.
I like to challenge my kids, and guided reading is a great place to do it (because they have my support). However, I sometimes have a tendency to pick books that are a little TOO challenging.
When this happens, it takes them forever to read the book. We don't have much time for a comprehension discussion, and we certainly don't have time for word work or anything else.
If your students are reading at levels A-K, they should be able to read the new book with 90-94% accuracy, as long as they are comprehend the text quite well (if their comprehension is limited, aim for 95-100% accuracy).
For higher reading levels, kids should be reading the text with 95-97% accuracy, unless they are really struggling with comprehension (then it's 98-100% accuracy). (Fountas & Pinnell)
If you find that your students' accuracy is lower, you may need to a) choose easier books and/or b) provide a more supportive book introduction.
Mistake #2: Thinking that we HAVE to get through an entire text in order to have a good comprehension discussion.
I started making this mistake when I moved from Kindergarten to second grade.
I was accustomed to using brief guided reading books with my Kinders. But my second grade students were reading more challenging texts. Those texts were, naturally, longer.
I frequently underestimated how long it would take us to read the text. Then (just like when I used texts that were too hard for my students), we were rushed in our comprehension discussion – if we even had time for one!
What I learned to do instead was to intentionally overestimate how long it would take us to read a book. I'd mark a halfway point in my book (and sometimes their books) and have them stop at that point.
Early finishers could search for a vocabulary word that was new to them, practice rereading a page for fluency, or jot down thoughts on a sticky note. When everyone finished, we then discussed what we had read so far. This practice improved our comprehension discussions greatly! We were focused on a smaller portion of text, so we could really "dig in" and examine the text more closely.
Even though I don't rush through texts anymore, I also don't drag them out. I don't allow more than 2 guided reading lessons on one book (in the primary grades). The kids forget what they have read (and so do I!). So it just makes sense to keep each book for no more than 2 lessons.
If you have a really long text that you want to use with some strong readers, just work on a chapter or two. They can finish the text independently, if they're interested in reading more!
Mistake #3: Thinking that I can't put students at two different reading levels in the same group.
Some years the Guided Reading gods bless you with perfectly sized groups of students at the same reading level. But most years….they don't.
If you have to put a student whose instructional level is a Level J into a Level I group, the Guided Reading Police will not come after you. Promise.
And in all seriousness, it's definitely do-able. Finding a child's instructional reading level is not an exact science. You can even alternate text levels for that group (one book at Level J, then another book at Level I).
The one thing I would encourage you to think about is reading rate.
If you have to put a higher reader in a group of readers one level below him/her, make sure the higher reader isn't also a speed reader (he/she will finish far more quickly than the other students).
Similarly, if you put a lower reader into a higher group, make sure that reader doesn't read at a snail's pace (slow rate + harder texts = not a successful guided reading experience).
I find that I have to make more adjustments when I mix reading levels. After a couple of days, I notice that a child is not being successful, or that another is not challenged at all by the text. So I make changes until I have a grouping that works better!
Mistake #4: Trying to cram too much into my pre-reading book introduction.
I used to try to fit all of the following into my book introductions:
Topic introduction (and brief discussion of students' background knowledge)
Preview of the text (a couple of the pictures, a tricky word here or there)
A review of a strategy I wanted my kids to use
It was just too much!
First of all, I eliminated the strategy review. I have some strategy visuals that I can display for students to reference as they're reading the book. But I save the strategy review/instruction until AFTER they finish the text.
I also try to be super intentional about what I say when I introduce the book. I want to get my kids really interested in reading the text – but I don't want to give away the ending. I don't need to show them every picture, and I don't need to teach them every tricky word or challenging vocabulary word. And when we have a pre-reading discussion, I only give a couple of the kids a chance to talk.
If I find that my kids really struggle with a text when I pare down my introduction, it may be that I just need to use slightly easier texts with them.
Mistake #5: Stressing out about not fitting everything in!
I have bad news for you. If you're struggling with "fitting everything in"….it's because you can't! Sorry. 🙂
Personally, guided reading can really stress me out. The time seems to go by SO quickly, and I really value opportunities to work with students in a small group setting.
I find that I sometimes have to pause for just a moment, to breathe and feel sane again. And to remind myself that we can finish an unfinished activity another day.
It's not a bad thing to overplan a little for guided reading, so that you can make use of every instructional minute you have. But it IS a bad thing if you get too worked up about not finishing everything.
If you find that you're consistently failing to fit in everything that you'd like, try asking yourself these questions:
Am I trying to fit something in that would actually be best taught during another time of the day? (I try to do a lot of my strategy modeling during shared reading. I also do the majority of my word study during a dedicated, 20 minute word study block each day. This helps save a little time during guided reading.)
Could I use an A/Day, B/Day schedule, or a 2-day guided reading lesson plan like Jan Richardson? (If you use this type of plan, you have certain instructional activities for the first day, and other ones for the second day.)
Final Thoughts
I hope that you'll benefit from reading about my guided reading mistakes! In my opinion, teaching is as much about learning as it is about instructing. Here's to more learning, mistakes and all! 🙂