Do you have any students in your class who aren't yet reading at grade level?
Even if those lower students are making progress, they still may not be "bridging the gap."
(In other words, the higher readers are making progress, too. And the lower readers are still behind, even though they may be getting better every day.)
So how do we bridge the gap?
That's exactly what I'm going to tackle in this blog post!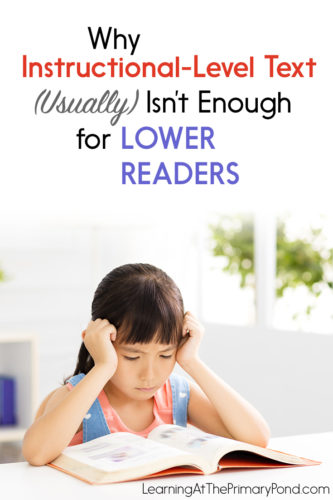 Years ago, when I was getting my master's degree in literacy leadership (at the University of Illinois at Chicago), I worked in the university literacy clinic.
At the clinic, we served struggling readers in elementary school and high school. We were tasked with having students read grade-level text, even though the students' independent reading levels were significantly lower.
This approach was a bit different from what I'd learned about teaching reading, especially to struggling readers.
Before that, I'd always been told to use instructional-level text.
What is instructional-level text?
Instructional-level text is text that's slightly harder than what a student can read independently. The idea is that the student can be successful with that challenging text, given teacher support.
In theory, instructional-level text can help bring kids forward in their reading. They're being challenged by the text, but not so much that they're overwhelmed or unable to grasp the text.
Going beyond instructional-level text
At the reading clinic, however, we were going over students' instructional level. In some cases, we went way over!
Our professor (Dr. Tatum) explained that if students are always given instructional-level text, then they may not ever "bridge the gap" and catch up to their peers.
That idea made a lot of sense to me. (And I also saw that it really worked! The 7th grade student I worked with really did improve in her reading!)
Still not enough…
Yet…I also don't believe that reading grade-level text is always enough to help lower readers "bridge the gap."
My experience has shown me that students who read below grade level (and all students, really) should read texts at a variety of levels, not just instructional-level and/or grade-level text!
This concept is similar to the act of climbing stairs.
If some students are currently at the "bottom stair" (aka reading far below grade level), working in grade-level text likely won't help them magically leap up the stairs.
In this example, there are multiple steps in between the student's current reading level and grade-level text. (This image shows two steps, but obviously, the actual number of steps would vary.)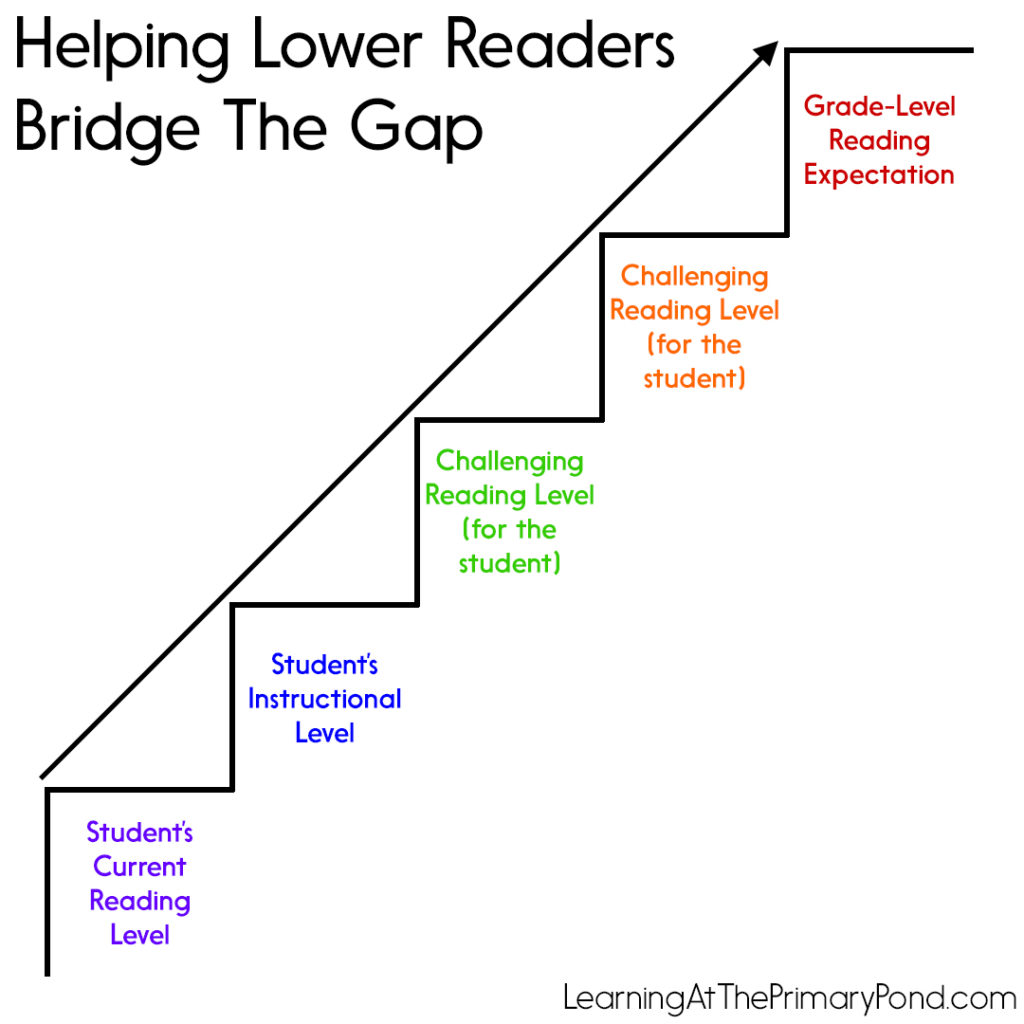 I propose that we give students opportunities to read books at a variety of levels.
For lower readers, this means having them read texts:
At their independent reading level (on their own)
At their instructional level (with teacher support…or maybe even on their own sometimes!)
At grade-level (with teacher support)
At levels BETWEEN their instructional level and grade level
Whoa. That's a lotta levels!
But this actually isn't very difficult in practice. It just means that we choose texts at different levels for our small-group reading instruction / guided reading.
(By the way, if you'd benefit from having passages at a variety of levels so you can make this happen, check out my First & Second Grade Literacy Club. Members get new passages every month!)
When we give students a more challenging text, we also have to provide them with appropriate support. We can't just hand them grade-level text and expect magic to happen!
In my next post, I'll explain specific strategies to help any student successfully read challenging text. Stay tuned!