Getting primary students to write can be quite challenging at times. If you teach students who are learning another language, it becomes even more challenging!
Before I became a literacy specialist, I was a classroom teacher. And one of my years in the classroom was spent in a two-way dual language program.
The goal of a two-way dual language program is to help students become fluent speakers, readers, and writers of two languages (let's call them Target Language 1, T1, and Target Language 2, T2). Some of your students speak T1, but they begin the program not knowing T2. And other students speak T2, but they begin the program not knowing T1.
In my case, I had:
Some students who spoke Spanish at home and were learning English

Some students who spoke English at home and were learning Spanish
When executed well, dual language programs can be AWESOME. Students learn from each other and finish the multi-year program speaking, reading, and writing two languages. And that is truly a gift!
As you can imagine, however, teaching in a dual program has its challenges.
Regardless of whether I was teaching in English or Spanish, at least some of my students struggled with the language. So at all times, I had to provide supports and scaffolds to make content and skills accessible to all students, regardless of their L1 (first language).
Writing, in particular, was challenging.
Receptive language (understanding / reading a language) develops before productive language (speaking / writing the language). So when I asked my students to produce writing in a target language that was not their first language, they often struggled. And that's totally understandable!
Giving a writing assignment in a dual language classroom is not as easy as putting up a prompt and telling students to take their pencils out. You have to provide supports so that students can be successful no matter what their proficiency is in the target language.
In this post, I'll share 4 different ways that I support my students with dual language writing. Even if you don't teach in a dual language program, please keep reading! These supports are helpful to students learning English as a second language, or for any student who struggles with language/writing.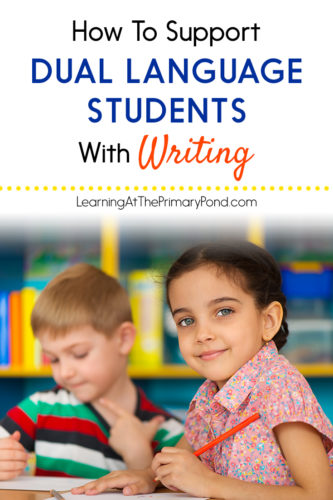 Photo Credits: spass, Shutterstock
1. Modeled Writing
This one might seem obvious—of course we want to write in front of our students, right? Modeling writing (and sharing our thinking as we do so) is SO important for all students, language learners or not.
But here are a few things to consider when you are modeling writing (or teaching writing mini-lessons) for language learners:
Pare down your language. It's easy to go on and on when you teach a lesson or model writing (I'm guilty of it!). But you don't want to create "language overload" in your students. Determine exactly what you are going to teach and what you are going to say when you teach it. Write down your main points in your lesson plan or on a sticky note, and keep it handy during the lesson. This will help you stay on track so you can be clear and succinct.
Model EXACTLY what you want students to do (to a T!). When there is a difference (however small) between what you model and what you expect students to do, language learners quickly become confused. To avoid this, ensure that you model precisely what you want students to work on during writing time. Use the same type of paper you want students to use. Respond to the exact same prompt that students will respond to. If you are modeling only one small component of a writing project, also show a finished version of the project so students can see what the "big picture" looks like. When you refer to an anchor chart, get up and go over to it in the classroom (or have a student get up and point to it). Little things make a big difference when you are working with language learners
Model how to use supports and scaffolds. In later parts of this post, I'll share some supports and scaffolds you can use to help students write. Make sure that you model how to use these same tools—repeatedly—during your mini-lessons. Students need to hear your thinking and how you decide when (and how) to use these supports.
2. Word Banks
Providing key words for students both raises the quality of their writing and lowers anxiety about writing.
You can do this by writing words on the board (students can also contribute words, which is great) or providing a half-sheet to students. I ultimately decided to create writing prompts that had word banks right ON them. This way, the support was right in front of my students as they wrote. Here are two examples in Spanish and English: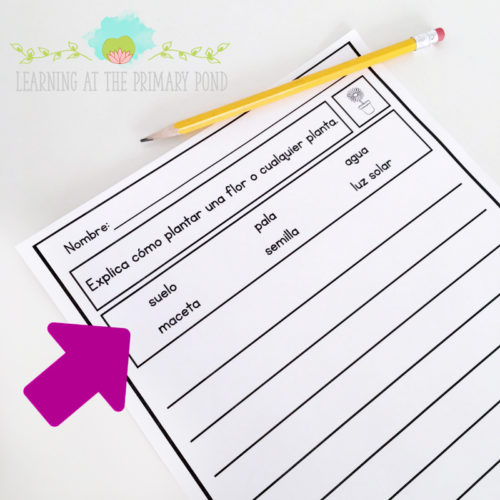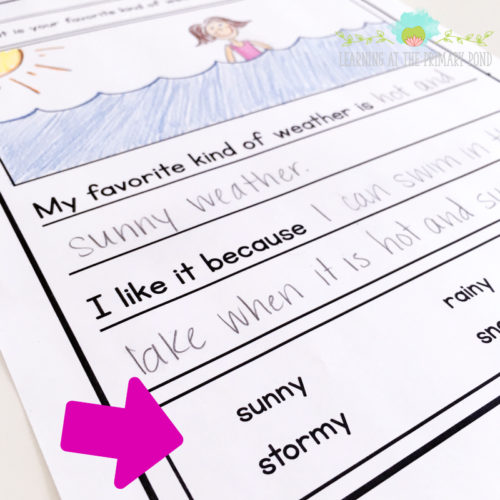 These examples come from my differentiated writing prompts resources (in English and Spanish), which you can view by clicking HERE.
3. Sentence Starters or Sentence Frames
Sentence starters or sentence frames provide even more support! They can give students a really strong start with a piece of writing, as well as support with structuring a piece of writing.
If you've read any of my other blog posts, you know that I always have students do as much as possible on their own—I don't want them to become dependent on supports.
That said, language takes time and lots of practice to develop. If a student is at the stage where he can only produce a word or two, then we have to take that student where he is and help him be successful. Sentence starters or sentence frames are a great way to help students communicate ideas while lessening the cognitive load required to write complete sentences.
Here are some examples of writing prompts with built-in sentence frames: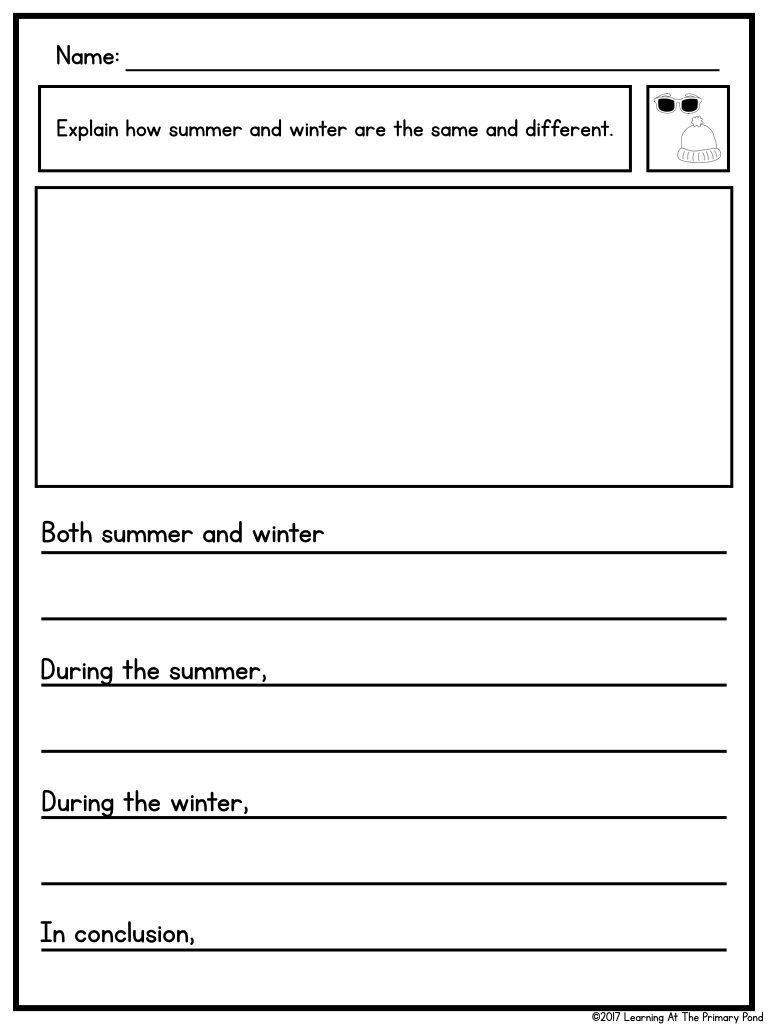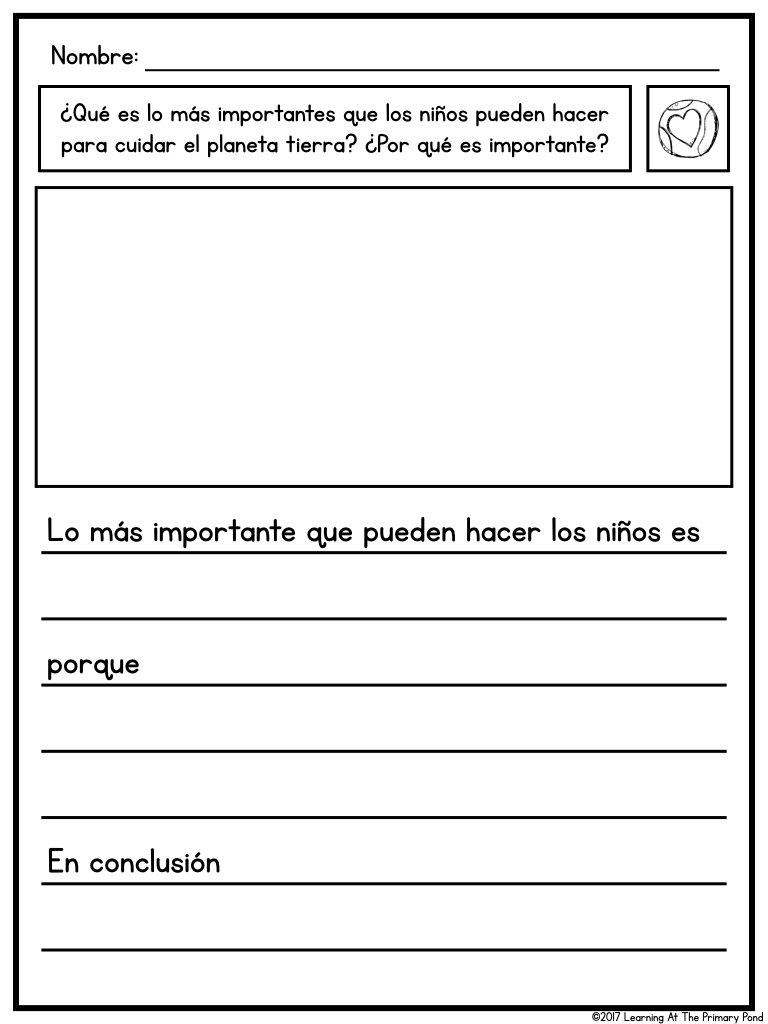 4. Verb Conjugations
At one school where I taught, we helped students conjugate verbs with pocket chart displays. I wish I had taken a photo of it! But basically, you would have different strips and images for each form of a verb:
Yo voy
Tú vas
Él / ella va
Nosotros vamos
Uds. / ellos van
Although you can't display all verbs at once, it was a great starting place for helping English speakers learn Spanish!
Conclusions
How do you help your dual language learners experience success during writing time? Do you have any strategies to add to this list? Please comment below—I'd love to hear from you!