When I was "college shopping" toward the end of high school, I visited a university with my parents. We went to the College of Education and were asked to wait for a professor in her office.
As I sank down into the soft chair, I noticed something spectacular. Every single wall of the professor's office was completely covered with books. There were shelves, shelves, and more shelves of children's literature.
It was my own, personal version of an amusement park.
I looked at my parents and said, quite seriously, "My office is going to look just like this someday."
Flash forward about 15 years…I'm not quite there yet, but I'm working on it. 🙂 My collection of books is growing, and I still LOVE reading and sharing books with students!
But there's just one problem: I'm a busy adult now, and I haven't had time to stay up-to-date on the latest and greatest children's books.
A couple of months ago, I decided that I needed to find a quick and easy way to learn about recently-published children's literature. Also, many of you had mentioned that you'd like to read about outstanding children's books here on my blog, and I wanted to find some good texts to share with you.
I started doing a little research, and I eventually stumbled upon a website called GiftLit.
GiftLit is a book subscription website that allows you to select curated monthly book packages for yourself, another adult, or a child. You can have them pick the books, or you can pick your own books. How fun would it be to order a subscription for your class and surprise your students with new books for a couple of months?
Anyway, I emailed GiftLit to ask if they would be able to provide suggestions for outstanding, newer children's books so that I could share these books with you on my blog. And I was thrilled to find out that the answer was YES!
I recently received my first book from GiftLit. It's called One Word from Sophia (Jim Averbeck and Yasmeen Ismail), and it tells the story of a little girl who wants just one gift for her birthday – a pet giraffe.
In today's post, I'll tell you all about this beautiful picture book and suggest different ways to use it for teaching comprehension and writing to your primary students. I'll also link to four different FREE lesson plans I've created to go with the book, because this text makes an excellent:
Mentor text for opinion / persuasive writing
Mentor text for strong illustrations
Readaloud for teaching character traits
Readaloud for teaching problem and solution
Before we dive in, I want to mention one thing – I'm now an affiliate of GiftLit. If you choose to order One Word from Sophia or any other book package from GiftLit, please use the code PrimaryPond when you check out. Using this code will a) get you a 5% discount through March 15th (yay!) and b) enable me to continue sharing these wonderful books with you, as well as provide free lesson plans and materials for the books.
Now, let's get started!!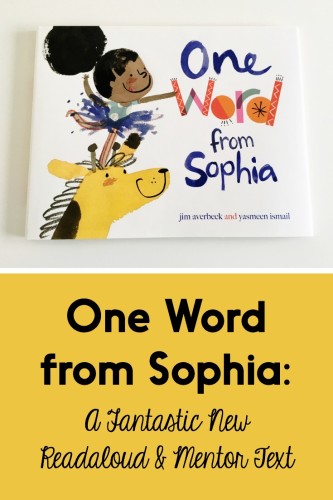 When I got my package from GiftLit in the mail, I was pretty excited. It came beautifully wrapped, and it was almost too perfect to unwrap! 🙂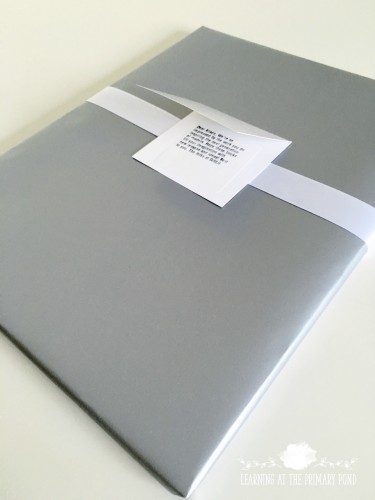 Here's One Word from Sophia, the book they'd recommended for me this month! February is Black History Month, so it's a great time to think about adding children's literature with diverse characters to your classroom library (for enjoyment all year round!).
As the story opens, you meet Sophia, a feisty and precocious little girl with only one, tiny, very simple wish:
To receive a pet giraffe for her birthday.
There are just four problems getting in her way: Mother, Father, Uncle Conrad, and Grand-mamá.
Sophia begins to plead her case, starting with Mother. She explains that giraffes burn less gasoline than cars, never have defective parts, and could quite easily deliver her to ballet class on the second floor.
Mother, as you might imagine, says no. She also tells Sophia that her argument is too verbose.
So Sophia approaches Father, then Uncle Conrad, and finally Grand-mamá. She brings graphs, charts, and diagrams to support her lengthy, thoughtful arguments.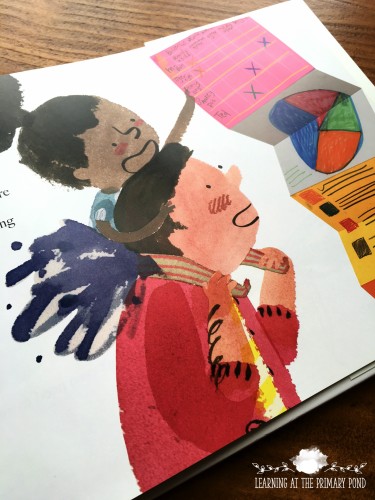 Unfortunately, their answers are no, no, and no. They call her presentations effusive and loquacious.
So in a last-ditch, desperate attempt to get her giraffe, Sophia distills her case to just one word.
And guess what? " 'One word really worked,' [Sophia] said."
"And two words came in handy as well:"
Isn't this a beautiful book? The way the text and illustrations are laid out is AMAZING, and the story is just darling.
But beyond it being a cute story (that drives home the value of saying "please," and "thank you"), this book makes a powerful mentor text or basis for reading comprehension lessons!
Let's start with the mentor text possibilities. (Side note: whenever I use a book as a mentor text, I always make sure to read it to the kids once just for enjoyment and comprehension. We later revisit the book to "dig in deeper.")
First of all, this book makes a wonderful addition to a persuasive or opinion writing unit! Sophia clearly states her purpose: "Her One True Desire was to get a pet giraffe for her birthday." Then, she goes on to give numerous reasons to support her opinion, including:
Giraffes burn less gasoline and are safer than cars
Giraffes are a good source of manure, which can be sold for a profit
Other "household members" are in favor of adopting a giraffe
Because each argument is featured on a different page, students can clearly see that she has multiple, distinct reasons to support her opinion. On a second read of the book, you can have them help you fill in these reasons into a graphic organizer (and then have them use the same graphic organizer to plan their own opinion writing piece). To get that lesson plan, please click on the image below: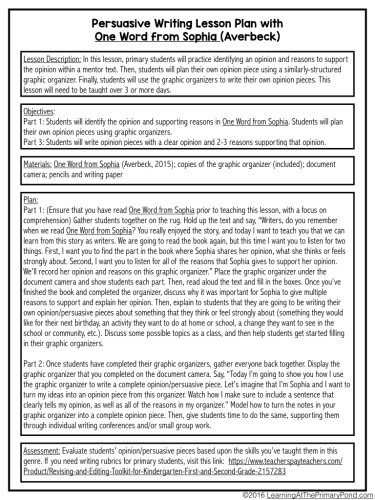 One Word from Sophia also makes a great mentor text for teaching young writers about illustrations. The text and illustrations integrate seamlessly, like on this page:
Yasmeen Ismail, the illustrator, uses a type of labeling that continues the narrative across both pages.
Or, check out this page, where Sophia's sad puppy-dog eyes are featured in a "zoomed in" illustration:
To download a lesson plan that uses One Word from Sophia as a mentor text for engaging illustrations, click the image below: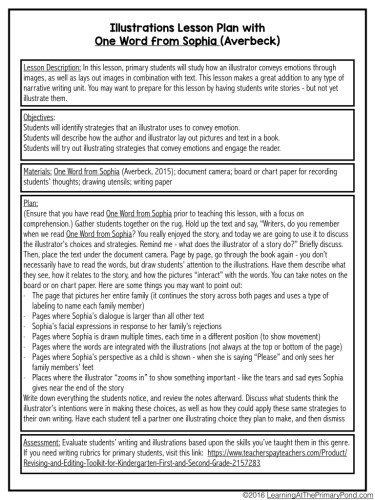 I can see lots of other uses for this book as a mentor text, but let's move on to ways this book can be used as the basis for reading comprehension lessons.
Sophia's fierce, outgoing personality makes this an excellent book for teaching character traits! We could argue that she is:
Determined (she tries many different arguments and strategies to persuade her family to buy her a giraffe – and she never gives up!)
Intelligent (she uses great vocabulary words in her arguments)
Kind (she wants to take care of an animal, and she uses "please" and "thank you")
Loquacious or talkative (she uses a whole lot of words to convey her thoughts!)
For a free lesson plan on character traits with One Word from Sophia (including a character traits poster and graphic organizer!) click on the image below: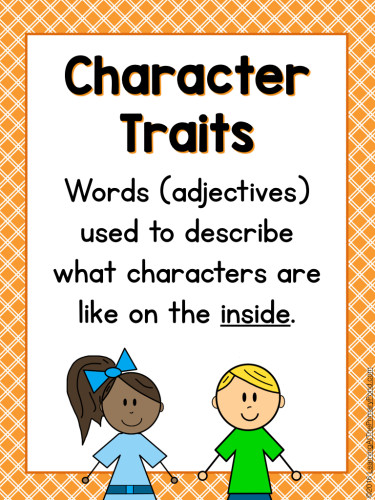 This also makes a great book for teaching problem and solution. One Word from Sophia teaches us that characters often try many different things before they find a solution to their problem. (This concept is helpful for students to learn as readers or writers). For a lesson plan on problem and solution using this text, click on the image below: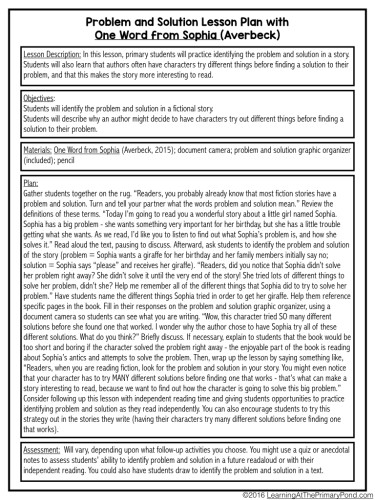 I hope that at least one of those lesson plans is helpful for you and your students! As you can see, this book can be used in so many different ways – and the best part is that students will LOVE the story. This is definitely one of my new favorite books!!
As I mentioned earlier, I'd love it if you'd support the work I do with children's literature by using the code PrimaryPond when you check out at GiftLit (this applies for any purchase, even those that do not include children's literature). This will also get you 5% off your purchase through March 15.
If you want to order One Word from Sophia in your self-selected book package, just follow these steps:
1. Select the "Build Your Own" option: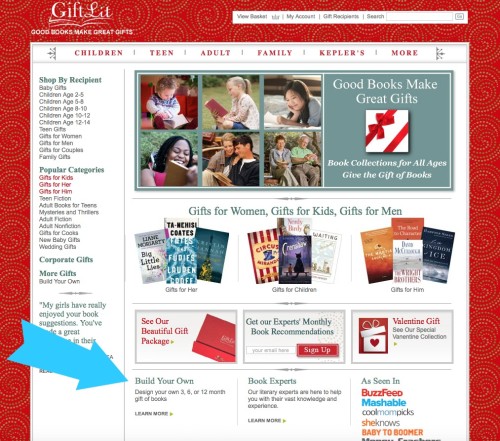 2. Choose "Custom Children's Collection":
3. Select "Change Book":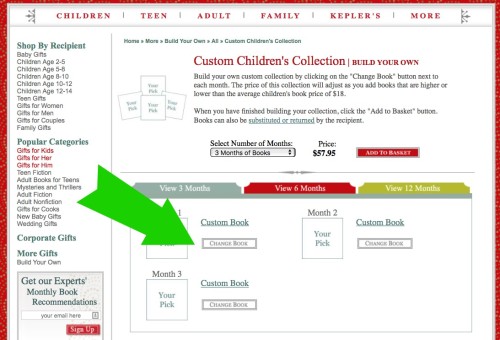 And then search for One Word from Sophia.
If I had my own classroom, I would love to surprise my students with a monthly book subscription! There are also these nice gift message cards that you can use (you could even pretend the books are from someone else, like a leprechaun for St. Patrick's Day):
And of course, GiftLit has lots of other options, too – you can choose children's books for a certain age range, young adult literature, books for women or men, books for new babies (great baby shower gift!!), and the list goes on. Again, please use the code PrimaryPond when you check out to get your discount (good through March 15th)!
Let me know if you read this book and love it as much as I do. 🙂 Happy teaching!
References:
Averbeck, J. (2015). One Word from Sophia. New York, NY: Atheneum Books for Young Readers.