When Amanda Duke told her husband about a strategy she'd learned for taking guided reading notes, he was shocked.
Take notes on sticky notes and then attach them to sheets of paper? It didn't sound practical or professional to him.
And Amanda agreed. As a Kindergarten and first grade teacher, she's always loved teaching guided reading. Amanda sees the incredible power of working with kids in a small group setting.
But she's always struggled to find practical solutions to guided reading organizational challenges (so have I!). She wanted an easy way to switch up her groups, keep and reuse lesson plans, and take notes on her students.
When Amanda went looking for technology that would do this, she didn't find any apps that quite fit the bill. Sure, there's Evernote and other great organizational apps. But none of them were designed just for teachers.
So Amanda set out to make her own app. She drew up some plans and talked with other teachers to get their input. She and her husband worked with local developers to create a model, and they continued to revise that model based upon input from other teachers.
And that's how Guided Reading Organizer (GRO) was born!
When Amanda shared her story with me, I was so impressed with how much time and thought she (and other teachers) have put into this project. But what's even more impressive is how awesome and practical this app is!
In this post, I'll show you how you can use the app in your own classroom to make planning for guided reading faster, more efficient, and more effective. I'll also show you how to use the app to easily take notes and keep data on your students' progress.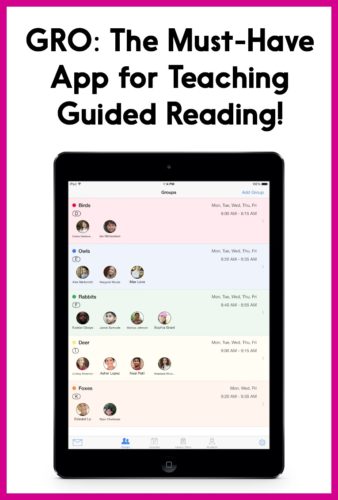 Before we dive in, I do want to mention that guided reading isn't the only thing you can use this app for – it works great for small group math lessons or any other type of small group instruction.
Groups
The first thing you see when you open up the app is your groups. You can use different colors and group names to keep them all straight. I love that you can put in the kids' photos to see your class at a quick glance!
Tapping on one of the groups allows you to name it, add a color, set the meeting days and meeting times, add a level, and write notes (like a group focus).
This is so handy because we have so many different groups to keep track of. If a student teacher or other support teacher comes to work with one of the groups, you can easily send them a screenshot like the one below.
Calendar
Next up is the calendar tab!
The calendar feature is a dream come true if you are as scatterbrained as me. 🙂 I can never remember which groups I'm supposed to see on a given day.
As you can see in the screenshot below, the groups you have scheduled show up as colored dots. This really saves time when you need to call a group to your guided reading table. Instead of having to find your binder or clipboard and search for the right paper, you just open the app, tap on the calendar tab, and immediately see the group colors. SO fast and easy!
You might be able to tell from the image that you can also go right to your individual lesson plans from the calendar view. Again, this saves a lot of time.
Before I had this app, I first had to find the correct tab in my binder and then flip to the correct lesson plan. I know that doesn't sound like a big deal, but I'm much happier spending those minutes teaching instead of searching!
Lesson Plans
Speaking of lesson plans, this tab is probably my favorite part of the whole app. You can choose to create a general lesson plan (for any type of instruction) or a guided reading lesson plan. I'll focus on the guided reading plan because, well, I'm a reading specialist. 🙂
As you can see from the screenshot below, the parts of the lesson plan are clearly customized for teaching guided reading. When you open up the plan to teach it, there's a timer BUILT INTO the lesson screen! Could you ask for anything more?!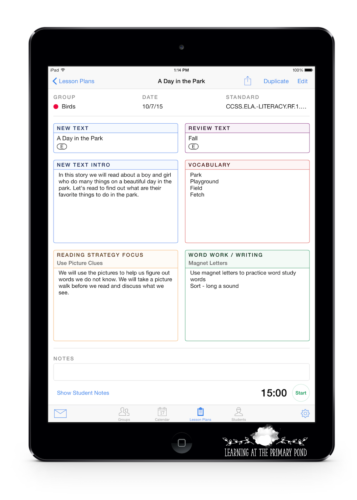 But my favorite thing is that it allows you to re-use lesson plans!!
There's nothing more annoying than realizing that you are basically re-writing a plan for the Red Group that you taught to the Orange Group 2 months ago! (But of course by the time you search for and find that original plan, you may as well have re-written it anyway.)
When you use the GRO app, you don't have to deal with this anymore. Of course you can customize the plan to meet the needs of a particular group of students. But when you have a text intro and strategy focus that work SO well with one book – why not use it again? And again, and again. 🙂
When you are in the lesson screen, you have the option of pulling up student notes. You tap the correct student in the group, add a note, and you're done. Again, no more flipping through binders trying to find the right kiddo – or in Amanda's case, no more keeping data on sticky notes!!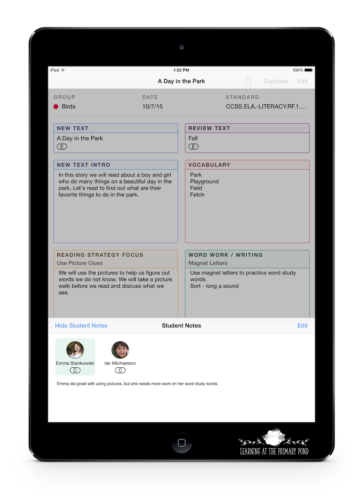 Students
The final tab in the app is the "Students" tab. This is actually where you'll want to start after you download the app. You can put in your kids' names, photos (if you like), as well as lots of other data.
As time goes on and you take more and more notes on a child, you'll be able to quickly scroll through them and see progress or patterns.
You can also keep track of the student's reading level – and the app graphs level changes over time!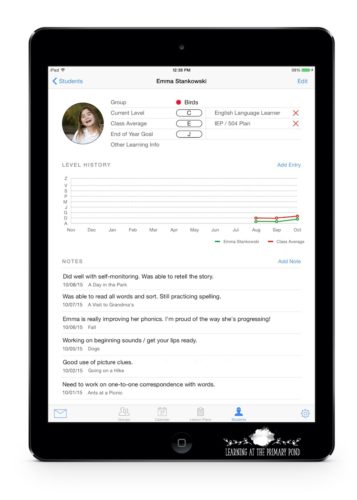 Even though this is all electronic, it's simple to get paper copies of all of these things. The app has a "share" button" that allows you to easily export lessons and data. You can email documents to yourself, a special education teacher, the reading specialist, or even parents. I love this option because it is nice (and sometimes necessary) to have hard copies.
Get The App
This app makes my teacher heart SO happy, and I know it will make your life so much easier! You can get GRO for your iPhone, iPad, or iPad touch.
Before I give you the link, I do want to let you know that the app is not free. It costs about as much as 2 coffee drinks at Starbucks.
It'll save you time, help you take better notes, and enable you to easily share information about your students. And that is infinitely more valuable than 2 shots of caffeine. 🙂
You can purchase the app HERE – and note that I don't receive any sort of benefit when you buy it. Amanda was kind enough to let me try the app for free, and I'm sharing it with you because I honestly think that it's wonderful and will make your literacy instruction better!
If you have any questions about the app or need help once you've downloaded it, you can send an email to info@gro-app.com.
Comment below to let me know how you like the app! Happy teaching!