The beginning of each school year is an exciting time. It's also an important time – it's when we lay the foundations for our work throughout the school year!
When it comes to teaching phonics, I've seen BIG payoffs when I teach certain routines to my students at the beginning of the school year.
Once students know each routine, we use the routines to practice different phonics patterns throughout the year. This is a BIG time-saver, because I'm not constantly teaching new activities!
In this post, I'll cover some of the important phonics routines I teach at the beginning of Kindergarten, as well as at the beginning of 1st and 2nd grade.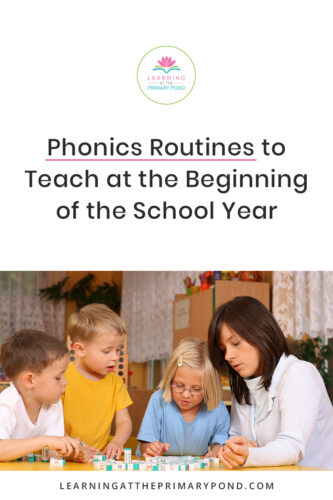 Kindergarten Phonics Routines for the Beginning of the Year
Multi-Sensory Writing
A "multi-sensory" instructional technique engages more than one of the senses.
I often have my Kindergarten students practice writing letters while also saying the letter name and/or sound aloud. For example, we might trace the letter "m" while saying aloud, "m says /m/."
As far as tracing materials go, here are some ideas:
Air-writing – Have students extend their whole arm and two fingers. They trace the letter in the air while saying aloud, "m says /m/."
Sand writing – Put colored sand on a small tray or sturdy paper plate. Students trace the letter in the sand while saying aloud, "m says /m/."
Gel bags – Fill a plastic baggie with hair gel and add food coloring. Each student traces the letter in their own gel bag while saying aloud, "m says /m/."
Shaving cream – Spread shaving cream over your desks or tables. Students trace the letter in the shaving cream while saying aloud, "m says /m/." (This one is a little messier and takes up more time, so I save it for special occasions. But a perk is that your tables get cleaned in the process!)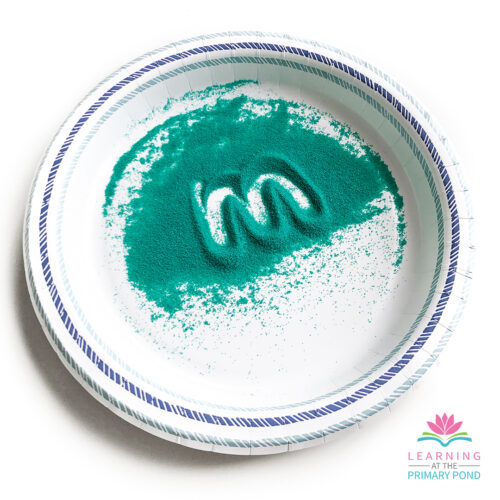 Picture Sorts
Picture sorts are great for developing both phonological awareness (identifying the first sound in a word, in this case) and phonics knowledge.
When I introduce each letter, students practice sorting pictures that begin with the letter's sound and pictures that do not begin with the letter's sound.
Picture sorts help develop both phonological awareness and phonics knowledge. They're also easy to incorporate into your Kindergarten phonics routines all year long.
Students can also do picture sorts to practice comparing the sounds of different letters.
After my students understand how to do picture sorts and have learned a handful of letters, I also ask them to begin using invented spelling to label the pictures in the sort. For example, if they sort a picture of a mop, I have them attempt to write the word "mop" under it.
I have to model how to use invented spelling (many, many times!) and some kids are hesitant at first. But with some encouragement, soon they're using their growing letter knowledge to practice writing words. It's okay if the words are spelled incorrectly. The process of listening for sounds in the words and trying to represent those sounds with letters is extremely beneficial!
Reading Letter Books
I like to read aloud a letter book for each letter. The letter book has pictures of different items that begin with the letter. The letter books present opportunities for practicing:
Hearing the first sound (phoneme) in a word spoken aloud
Correctly turning pages in a book and other beginning print concepts
Identifying the first letter in a word
Pointing one time under each word
Reading high frequency words (after we start learning high frequency words, the alphabet books contain some of those high frequency words)
Blending
This routine isn't one that I teach immediately at the beginning of Kindergarten. But after students know a few letter sounds, we start working on blending!
When we blend, we often begin with VC (vowel-consonant) words like "up" or "at" or "in." I model how to say each letter sound and then blend them together.
Of course, it takes time for students to be able to do this on their own. You can use the gradual release of responsibility model to support them. Here's how:
Model saying the letter sounds in your VC or CVC word. Then, say the whole word as you slide your finger or hand across the word to model the blending process.
Repeat this same process, but this time, students say the sounds and blend along with you.
Students repeat the process on their own.
And yes, you can do it 3 times for a single word! That repetition is necessary at the beginning. As soon as you can, however, begin removing support so that the kids are blending on their own.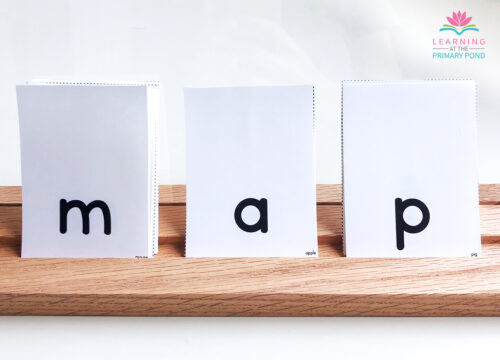 Of course, these aren't the only phonics activities I do with my Kindergarteners. There are a few others, too!
Plus, Kindergarten is unique in that the students grow and change SO much throughout the year! So I do end up teaching a few additional routines (i.e. word building with magnetic letters) as the year goes on.
1st & 2nd Grade Phonics Routines for the Beginning of the Year
Multi-Sensory Writing
I use multi-sensory writing with first and second graders, too! Read the above description under "Kindergarten" to see what I do.
With first and second graders, of course, you're working on more complex spelling patterns. You might say, for example, "The sound is /ē/." (Long e) Students repeat the sound, and then they write all the ways they know to spell long e. They might write "ee," "ea," and "e."
Blending
Just like I described in the Kindergarten section, we practice blending in first and second grade. (Of course, we use more complex sounds, like vowel teams and 3-letter blends.)
It might seem odd to have second graders practice blending to read words – they might be able to read those words without blending aloud.
But here's the thing: even as kids are becoming more skilled with their reading, they still need to know how to blend. Some students get by with their reading by memorizing tons of words. But they aren't actually blending to read. So when they encounter a word they've never seen before, they don't know how to tackle it.
Having students continue to practice blending helps prevent an over-reliance on memorization. You can have students practice blending nonsense words in addition to real words. This helps ensure that students are TRULY reading by blending, not just through memorization.
Picture Sorts, Word Sorts, and Written Sorts
I explained what picture sorts look like in the "Kindergarten" section. Of course, you can use picture sorts for more complex concepts, too. First graders might sort pictures with short o and pictures with long o. Or they might sort pictures that begin with the "ch" digraph and pictures that end with the "ch" digraph. Again, they can write labels for the pictures.
Word sorts are another helpful routine. The human brain LOVES patterns – our brains are constantly looking for patterns. Word sorts give students an opportunity to look for and learn patterns in words.
When you have students do a word sort, don't have them glue down the cards immediately. They can practice sorting their words several times. Just make sure that they read the words each time as they sort!
A written sort is similar to a word sort, but there are no word cards. Instead, I give my students a blank sheet of paper, or one that has word patterns written into columns at the top.
I read a word aloud. The students' job is to decide what pattern the word contains and then write it in the correct column.
Word Building
The term "word building" is pretty self-explanatory! But in a nutshell, kids are using magnetic letters or letter tiles to build words with the phonics pattern(s) that they're working on.
Here are two ways that I use word building:
To have students practice reading words. I tell them letters to put together, and they read the word.
To have students practice spelling words. I tell them the word, and they segment the word into its sounds. Then, they find the correct letters to represent those sounds.
Usually, I'm doing strategy #2 with my students. (Students have lots of other opportunities to read words – on word cards, through the blending drill, etc.).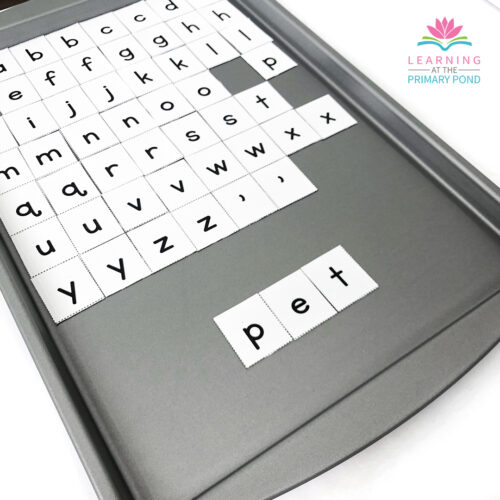 Reading and Responding to Decodable Texts
Decodable texts are texts that only include certain words – words that students should be able to decode, based upon the phonics patterns and high frequency words that they've been taught.
It's important to have students apply their phonics learning to real reading. With a decodable text, you can:
Have students circle or highlight words with a target phonics pattern.
Have students read the passage or book multiple times.
Have students discuss the meaning of the text.
Have students respond in writing (preferably, using words from the text to further practice the target phonics pattern).
Dictation
Dictation is an extremely effective phonics practice routine. I actually stumbled onto the "magic" of dictation myself – and then later read research that supports what I learned on my own!
In a dictation, you give students:
Sounds,
Words, and/or
Sentences
And students write them down. You very intentionally select the spelling patterns and high frequency words represented in the words and sentences, so that students are practicing what you've already taught them.
This is different from a spelling test. A dictation can give you valuable assessment data, but it's actually a practice activity in itself.
The way I do dictation, we sometimes segment the word together, to give students support with hearing each phoneme. Then, after students write the word, I write the correct word on the board and students re-copy it, correctly. This gives them immediate feedback.
Dictation helps students practice encoding (taking the phonics patterns they're learning and applying them to write words).
Dictation sentences are also a great way to practice high frequency words, capitalization, punctuation, and correct spacing. Lots of bang for your buck! ?
Breaking Words into Syllables
Breaking words into syllables is a skill that I did NOT learn as a student. But it would have served me well!
As children begin to read more multisyllabic words, they need a strategy for breaking down those words. They also need a strategy to help them figure out the sounds of the vowels in the words.
Teaching students how to syllabicate words (break them into syllables) accomplishes just that. If you'd like to read more about how to do that, check out this blog post with step-by-step directions.
Conclusion
Whew, that might seem like a lot to teach, right?
But don't worry – as with any set of procedures or routines, you only need to focus on one thing at a time.
Once your students know these routines, you'll be ready for a successful year of phonics instruction!
If you'd like more support with teaching phonics and a program to use throughout the year, check out From Sounds to Spelling. This program includes lesson plans and materials for students, as well as professional development videos for you to watch and learn about these phonics routines and more. All of the photos in this post come from From Sounds to Spelling materials.
Happy teaching!