I'm a reading specialist, and my blog (Learning At The Primary Pond) is designed to help K-2 teachers. But I often have parents come to me for help, saying, "My child is struggling with reading! What can I do?"
So that's exactly what I want to address in this blog post: what to do if your child is struggling with reading. I'll suggest some action steps AND provide a free guide to support you.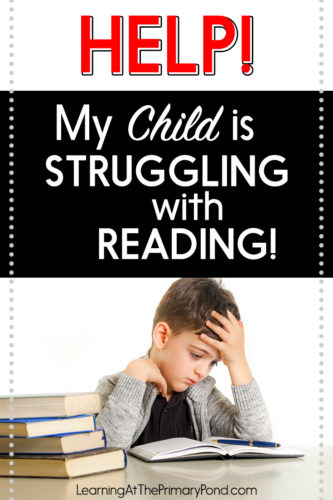 Know That You're Not Alone
First of all, before we dig into strategies and action steps….let's talk about what it feels like to have a child who's struggling with reading.
You might be feeling worried. Concerned that YOU did something wrong. Your imagination might jump to how this will affect your child's future and adult life.
You might feel alone or helpless. Confused. Not sure where to turn.
I see you, and I acknowledge ALL of those feelings. Your child means the world to you, and you want the very best for him/her.
And I want to reassure you of a few things:
You're not alone! At LEAST 20% of children have difficulty learning to read. In reality, that percentage may be even larger. I'm a reading specialist and I've worked with tons of kids who have reading difficulties. And guess what? They've all learned to read.
Your child is intelligent and capable. Reading difficulties typically have nothing to do with intelligence. Many of the smartest people (who have become scientists, authors, and are incredibly successful today) struggled with reading when they were children!
You didn't do anything wrong. Human beings are all different, and our brains work differently. If your child is struggling with reading, it does not mean that you did anything wrong. It means that your child is going to learn to read a bit differently than some other kids do – and that's okay.
You CAN get over this obstacle, and this blog post will help get you started.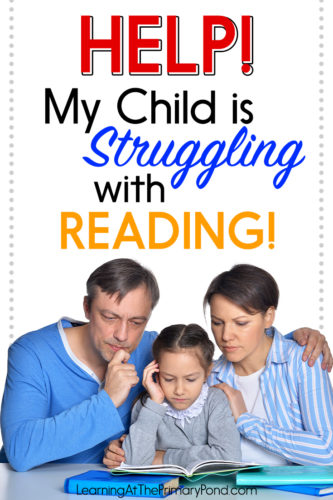 Seek Professional Help
Although I'll give you some tips about working with your child, my #1 recommendation is to seek out professional help. I'm not able to diagnose your child via a blog post, and I don't recommend that you try to make any diagnoses on your own, either. Even if you happen to be a teacher or educational psychologist…we all have blind spots for the people we know and love, right?
So my first suggestion is to seek help. And the most comprehensive help you can get for your child is to have complete psychoeducational testing done.
The thought of having your little one tested can feel intimidating or scary. But it's truly the best way to get comprehensive information about your child's learning needs. If your child does have learning differences, the information provided by testing will help your child get the assistance they deserve! And the people who give these tests are accustomed to helping children feel comfortable in the testing environment.
There are a number of ways to go about getting testing. In theory, your local public school (whether your child attends that school or not), should provide testing. And they should provide it for free.
In the United States, IDEA legislation gives parents the legal right to request testing to identify learning differences and determine the need for specialized instruction. But you may need to ASK for that testing, not wait for the school to suggest it.
In my free parent guide, I include a letter or email template that you can use to request testing.
If you make a request and you don't hear back, or it doesn't go anywhere, I urge you to keep asking. Educators are busy, and if your requests go unanswered, it does not mean that you can't get the testing done. Keep asking, or reach out to someone different…persist!
Even if you have to be a bit of a pest, it's worth it! Your child deserves it. And the vast majority of educators will absolutely want to help. People don't work in schools for the incredible paychecks. 🙂 We truly want to help you.
One alternative to testing in public school is to have testing done privately. This can result in testing happening more quickly – but there are typically costs involved.
To find a private testing center near you, just do an internet search for "psychoeducational testing near me" or "psychoeducational evaluation near me" or "learning disabilities testing near me."
After the testing is done, the assessor should meet with you and go over the results. Those results will help determine if your child is eligible for specialized reading instruction at the public school. If your child is NOT eligible, you can still seek out tutoring on your own. (More information on seeking out tutoring and making the most of tutoring is included in my free parent guide.)
Continue Supporting Your Child At Home
Testing takes time. If your child does have learning differences, it will also take time for specialized reading instruction to start.
In the meantime, there's lots you can do at home! Here are my top tips for helping your child with reading.
Continue reading aloud to your child, no matter how old he/she is. Read-alouds are fun and make for great bonding time. But there are many more benefits than that, especially for struggling readers. Children who aren't reading at grade level aren't exposed to as many vocabulary words or complex concepts in the books they are reading. You can still expose your child to these words and ideas by reading aloud. Talk about the text with your child, too. My free parent guide has a list of questions you can ask your child during and after reading.
Keep reading practice as frustration-free as possible. In addition to having your child listen to you read, keep practicing at home. But you want to avoid creating a situation where reading just stresses your child out. In order to avoid this, A) keep practice chunks short, B) maintain a positive attitude, and C) look for "good fit" books. My free parent guide will show you exactly how to choose books that are the best for your child's reading level, even if you don't know their current reading level.
Use audio books when possible. Audio books are great for car trips or while doing chores. If your child is asked to read a book for school, let the teacher know that your child will also be listening at home. (This mostly applies to students in grades 3 or higher – when the class begins reading longer chapter books.) Audio books of any kind are another way to give your child access to complex vocabulary and ideas, without your child having to decode the words themselves.
Ask your child's teacher or school for suggestions. Your child's teacher may have materials she can send home, or ideas about how to help your child. Educators are always happy to have parental support and help!
Check out the resources at your local public library. Public libraries have a ton of resources for readers of all ages. And librarians are trained to match readers with "just right" books. Some libraries can even give you access to special reading software programs or games, which are often super motivating for struggling readers. Librarians love to help kids with their reading, and best of all…it's all FREE!
More Resources
Would you like some more resources for helping your child succeed with reading?
First of all, a quick diagnostic phonics assessment might be helpful so you can pinpoint specific gaps. I have a FREE one here: Phonics Diagnostic Assessment
After determining what your child specifically needs support with, check out my Reading Intervention products! This provides resources that are no-prep, flexible (you can decide how many activities to complete per day), structured and consistent so that students know what to expect. Take a peek at those reading intervention products HERE.
My free parent guide includes:
Email / letter templates to use when requesting educational testing
Questions to ask your child during / after reading
How to find good-fit books for your child to read independently
And more!
Additionally my program From Sounds to Spelling includes lesson plans and activities for Kindergarten, 1st grade, and 2nd grade students.
The program will include a quick assessment you can give your child, and that assessment will show you where to begin helping your child. This program was developed for teachers but is also parent-friendly and can be used to help support your struggling reader at home.
Last but not least, if you haven't downloaded my free parent guide yet, please do so HERE.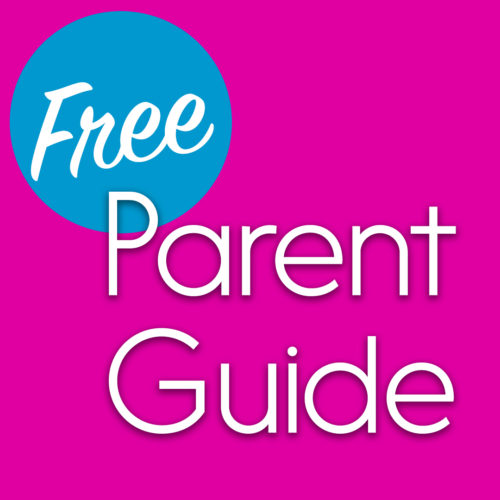 Good luck! You've got this!